World's Top Plant-Powered Tennis Stars
As competition at the Australian Open heats up in Melbourne, we take a look at the hottest tennis stars, past and present, who are powered by plants.
One of the world's best-known female tennis champions, Martina Navratilova's list of achievements is staggering. The only player in history to have held the number one spot in the world in both singles and doubles for over 200 weeks, she also won a staggering 18 Grand Slam titles and 31 major women's doubles titles, an all-time record.
Eating a plant-based diet at the height of her career, Martina was able to maintain her competitive edge into middle age.
Watch her talk about the benefits of a plant-based diet here:
In the video, she says:
"Most professional athletes retire in their early to mid-30s. I won a US Open Mixed Doubles title six weeks before my 50th birthday. … I also believe that my moving toward a more plant-based diet was the major reason that I was able to continue playing professional tennis through my 40s. It made me mentally sharper and made it possible for me to endure the physical conditioning that is required to compete at that level."
Vicki Cosio has played tennis since high school, and she's still successful now that she's in her 40s. She won the US Senior National Tournament in August 2014, even though she was playing in the age group that was below her own age.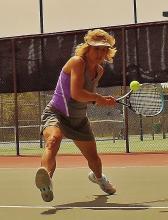 GreatVeganAthletes.com
In a recent interview, Vicki discusses the decision she made, along with her husband, to go vegan in 1999. She says:
"We are vegan for the animals. We love them so much. We can't stand the thought of animal cruelty, and we don't want to be a part of it. That's the reason we went vegan."
A vegetarian for 45 years, Peter Burwash was inducted into the Tennis Industry Association Hall of Fame in 2015. Since retiring from tennis, he has coached many other players, including Venus and Serena Williams, Greg Rusedski, Andrew Sznajder and Sébastien Lareau.
In an interview with Vegetarian Journal, he said:
"If you're going to build a 40-story building, vegetarianism is the ground floor. It teaches you to be less selfish, it teaches you respect for life, it teaches you discipline, it teaches you a sense of humility. … You will notice that someone who truly understands vegetarianism will have a sense of humility about them because they will have respect for all life."
Other Tennis Stars Have Enjoyed the Benefits of a Plant-Based Diet, Too
Novak Djokovic:
Venus Williams:
Maria Sharapova:
Ana Ivanovic:
Serena Williams:
---
Feeling inspired by these impressive athletes?