Guest Blog: Campaigning as a Youth Activist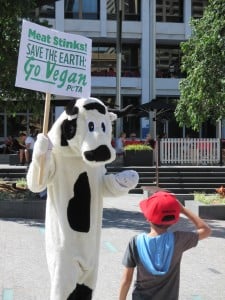 The concept of animal welfare and animal rights never occurred to me when I was a young child living in an urban and metropolitan environment, where the only animals I honestly thought existed were cats and dogs – and I thought they were all treated well.
But I was proved wrong as I grew up. I started to realise that there were more animals out there and that they weren't always treated kindly.
When I grew up, I began to realise that for many people, the focus of animal welfare was primarily on the fluffy, cute and cuddly animals and that it rarely extended to animals who were used for food and exploited by humans. Although I still believe that our current laws don't adequately protect domestic animals, this is being changed by the Victorian and Queensland Labor parties, which are cracking down on puppy farms – certainly an excellent step forward and by far the biggest advance we've seen in modern-day animal-welfare practices for domestic animals!
My first step in combating cruelty to animals was sending an e-mail protesting the live-animal trade when ABC released its "Four Corners" report in 2011 – in which an Indonesian investigation revealed the abuse inflicted on cattle imported from Australia. I was so angered that I sent an e-mail to the then–minister for the environment to raise my concerns. After the investigation was released, exporting cattle to Indonesia was suspended and the Exporter Supply Chain Assurance System was introduced.
Recently, my enthusiasm was once again sparked when I attended a "product party," in which different skin-care items were advertised. As the salespeople talked about all the benefits of their brands and its products, they brought up the issue of animal testing, which made me listen more carefully. They spoke about animals – particularly rabbits – who have toxic chemicals dripped into their eyes to test whether the ingredients are safe for human use. Learning about this disturbed me and prompted me to take immediate action against companies that support animal testing.
That evening, I visited PETA US' website and found out which brands do and do not test on animals. I was shocked. Almost all the products I was using (including shampoo, body wash and face wash) came from companies that test on animals. I discarded them, disappointed with myself.
I continued to explore PETA US' website and found out about other issues affecting animals. I learned more about the dairy industry, factory farming and the fur industry.
In 2014, I went vegetarian. I've been leading a vegetarian lifestyle now for almost a year, and my first-year anniversary was on January 3! It's the only New Year's resolution I've kept. For me, going vegetarian was never hard because, subconsciously, I had always wanted to change and omit animals from my diet. I believe it's morally justifiable, and it makes sense. It's made me healthier, and I don't feel tired anymore. Through this diet, I discovered a healthy lifestyle – one that's free of processed and harmful foods. After finishing school, I plan to go vegan!
This change has not only made me rethink what I eat but also what I wear. I'm now purchasing alternatives to leather and making sure that I don't buy wool.
In addition to going vegetarian, I also speak up for animals now more than I've ever done before. For example, I recently contacted a store that sold rabbit fur. Knowing of the obvious welfare concerns in the fur industry, I immediately and politely informed its management that the fur industry is barbaric and unnecessary and urged the manager to discontinue the sale of animal fur. After five e-mails, the store still didn't respond – but I persisted. One day, as I was walking past the shop, I approached the store assistant and gave her a letter that I'd written to the business about the concerns I had with the sale of fur – all with a smile on my face, of course. After this, someone from the store finally responded by e-mail and said that it would not reconsider its position, as it claimed to "source fur ethically". We know, though, that it's not possible to source animal fur ethically.
I didn't win that fight, but I definitely made sure that the store heard my voice. Using your voice as a consumer is so important, but you have to remember to be polite. People who act in a civilised and calm manner usually end up seeing positive results.
Through my activism, I've found that it's important to be educated on animal-welfare issues. The more educated you are, the more likely you'll be able to claim victory in an argument for animal rights!
Written by Joshua Boscaini