Contiki Stops Sending Tourists to Cruel Running of the Bulls
Travel Corporation has stopped offering tours to Spain's San Fermín festival. The company, which operates Busabout and Contiki, the leading travel provider for people aged 18 to 35, builds its brand on adventure holidays. But increasingly, young people are realising that there's nothing adventurous about terrorising bulls on the streets of Pamplona before the animals are stabbed to death in the bullring.
Many of the tourists who go to Pamplona to run with the bulls have no idea what happens to the animals afterwards. If they did, most of them would run the other way. As a proportion of our national population, Aussies account for the largest group of foreign runners at the cruel event, all seemingly oblivious to the fact that every single one of the terrified animals they chase through the cobbled streets will endure an agonising death a few hours later.
Speaking to triple j, Travel Corporation's head of PR said that the decision was "mainly for the reason of the treatment of the bulls". She continued, "It's what our passengers are telling us as well; [it's about] making travel matter, making sure they're putting their best foot forward. They want to know that in everything they do they make a difference. We're aligning with those ideals the best we can."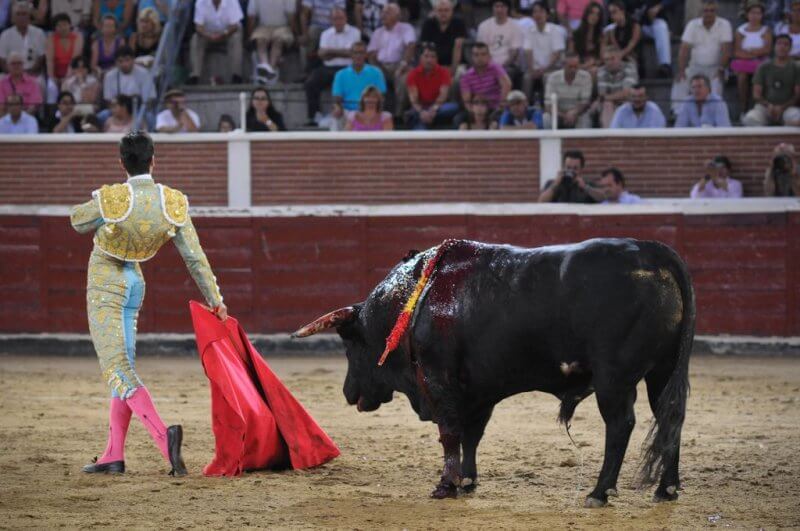 Jo-Anne McArthur | We Animals
In Pamplona, bulls are tormented with electric prods and sharp sticks before slipping and sliding along the narrow streets on their way to a violent death in the bullring. Once there, as many as eight men taunt, beat, and jab each bull with daggers and harpoon-like banderillas until he becomes weakened from blood loss. Then, the matador stabs the exhausted animal with a sword and an "executioner" cuts his spinal cord. Many bulls are paralysed but still conscious when they're then chained and dragged out of the arena.
The tide is turning against this abusive blood sport. Today, more than 100 Spanish towns and cities have banned bullfighting and over 80 per cent of Spanish people oppose it – but this industry is kept on its last legs in large part because of tourist money.
You Can Help Bulls
As Busabout and Contiki join STA Travel, Thomas Cook, and other travel providers in ending promotions of bullfighting events, an end is nearing for the Running of the Bulls. If you see a company promoting the event, please speak out. And take a moment to urge Spain's Prime Minister to end the bloody torture of bulls by signing our petition.