Jacinda Ardern Receives Baby Gift from PETA
What do you get for the baby who's bound to have everything?
Well, there's one thing that you can never have too much of – compassion – which is why we've just sent the soon-to-be newest member of New Zealand's first family a cosy faux-sheepskin rug.
In our letter congratulating Prime Minister Jacinda Ardern and her partner, Clarke Gayford, we explained that while traditional sheepskin rugs might look warm and fuzzy, the way that they're produced isn't.
Sheep used for wool, skin, and meat endure lives filled with misery. Every year, workers cut off parts of the tails of millions of them – often without any painkillers – and countless new-born lambs die from exposure.
---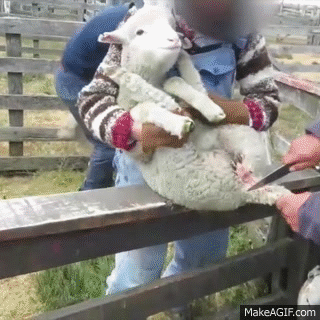 ---
Over the past few years, PETA and our affiliates have released exposés of wool-industry facilities on three continents – in countries including Australia, Argentina, Chile, and the US. Every single one has revealed that sheep are mutilated and abused for wool production. Eventually, they're slaughtered for their skin in order to make rugs and boots.
All of us at PETA wish Prime Minister Ardern and her family the very best.
And we hope other parents will also be inspired to pamper their little bundles of joy with animal-free blankets and bedding, which are just as soft and warm as animal-derived products but whose creation doesn't involve suffering. Non-wool garments are also far less likely to trigger allergies – another reason to choose materials that are both animal-friendly and easy on your baby's sensitive skin.
Want to help sheep? Pledge to choose fake for animals' sake: