The Best Vegan Chocolate Easter Eggs and Where to Buy Them
As Easter approaches and supermarket shelves start to fill with chocolate eggs, you may find yourself craving some sweet treats.
---
However, if – like many other caring Australians – you're avoiding cruel and unhealthy dairy foods, you may be wondering how you can get that chocolaty fix without harming animals.
Wonder no more! Dairy-free chocolate Easter eggs exist – and they're easier to find than you think ….
These Australian made vegan, gluten-free eggs come in Milk Chocolate, Almond, Macadamia, and Salted Caramel variations and are on shelves in so many shops across Australia, including:
Note: different flavours may be exclusive to different stores.
---
Dairy-, gluten-, egg- and nut-free, no one misses out with these Easter chocolates! Creamy Choc, Dark Choc and Hazelnot flavours are available at:
---
The pictures say it all. These ooey-gooey, delicious vegan Cream Eggs have taken Australia by storm. Not only are the products a dream for your taste buds, their chocolate is also direct trade, -a fully traceable system of sourcing ingredients that seeks to build direct relationships with farmers with the ultimate goal of establishing a fairer price for producers.
This Aussie company also offers limited edition bunnies at Easter time.
Hurry – treat dreams Cream Eggs always sell out fast! Order online via:
Or grab them in store at:
Check their huge list of other stockists here.
---
Loving Earth has expanded its Easter offerings in 2021 to include 2 pack Peppermint Creme and Raspberry Mylk eggs, alongside their classic BooBook Chocolate Eggs box, which contains 10 caramel filled chocolate eggs made from cashew milk. The chocolate inside the boxes is delicious, but the box itself gets rave reviews since all Loving Earth's packaging is made from 97% post consumer recycled fibre, printed with vegetable inks and the inner wrapping is home compostable.
Order online or find these in store at:
A full list of Loving Earth stockists is available on their website.
---
With eggs made with BunnyComb (vegan honeycomb), white chocolate bunnies, milk chocolate mini eggs, you're sure to find something for everyone. As well as being vegan, Moo Free offerings are also gluten and soy free.
Moo Free chocolate eggs are available from many shops, including the following:
---
Yup. Aldi's home brand chocolate Easter eggs are vegan. They taste DELICIOUS – and each egg comes with chocolate buttons! Since both the "milk" and white chocolate options come at a very affordable price, you'll be forgiven for eating more than one.
Be sure to grab one at your local Aldi store before they run out!
---
Wrapping-free vegan Easter eggs exist (yay for the environment!) and you can find them at Source Bulk Foods stores around the country! If they're a gift, pop them in a cute recycled jar for presentation to your eco-minded pals.
Available in Raspberry Mylk, Mint Dark, Pineapple Mylk, and Solid Dark Mylk Flavours. Find the closest store to you here.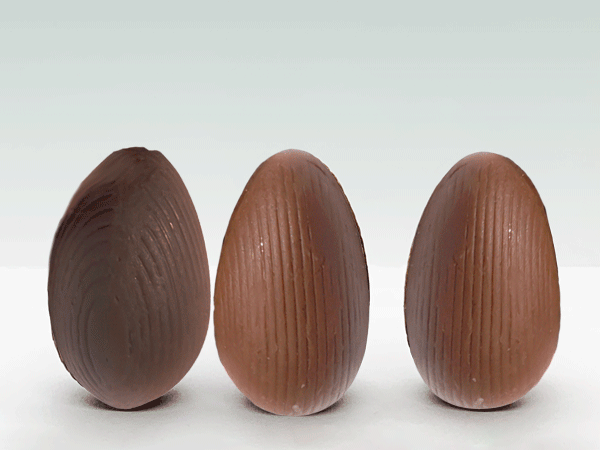 ---
Boutique Melbourne chocolate makers Hey Tiger have released Good Hare Day: a box of vegan eggs with crunchy rocher almond pieces. Ordering online and need to top up your cart? Try out their vegan rocky road too!
Also available at:
Hey Tiger's full list of stockists is here.
View this post on Instagram
---
In 2021, Australian chocolatiers Koko Black announced a dark chocolate vegan range, including hollow and solid eggs, bunnies and "Bunny Egg Pops" – chocolate eggs on lollipop sticks! If you're looking for something different, try their Quinoa & Goji Berry Egg or Coconut Flecks Egg.
Available at Koko Black stores in Melbourne, Sydney, Adelaide, Perth and Canberra, or online.
---
Also available at Aldi, the Moser Roth Dark Chocolate 70% Mini Chocolate Easter Eggs are great for an affordable Easter egg hunt.
---
Lindt offers a vegan chocolate egg and bunny combo pack! And Easter isn't complete without a chocolate bunny.
You may have given and received Lindt bunnies in the past – but did you realise the dark chocolate ones are vegan? Deliciously dark and sweetly satisfying, this combo will be sure to satisfy your Easter cravings.
Find Lindt dark chocolate bunnies at many supermarkets, Lindt shops and cafés, and online.
---
Available in most major supermarkets and health-food stores, Sweet William dairy-free bunny chocolates are easy to find – and very easy to eat! Cute chocolate bunny faces make a great Easter treat for kids.
Sweet William chocolate is available from many shops, including:
Click here for Australian stockists, or choose from a wider variety of Sweet William treats, including large hollow eggs and bunnies, at the Vegan Grocery Store.
---
Gingerbread bunnies make a cute gift, and with both chocolate and gluten-free options, Gingerbread Folk ensures no one will miss out on these cruelty-free Easter treats.
Order online, or find a list of stockists here.
---
This small Australian business has been making delicious handmade chocolates since 2013. The Easter offerings are plentiful and include vanilla fondant cream eggs, chocolate bunny lollipops, and large eggs filled with rocky road!
Order online here or pop into one of their stockists.
---
Organic Times' dark chocolate range is vegan – including a small and large bunny and hollow egg. Made in Australia!
Available at:
---
Plamil So Free Easter Egg
This organic, gluten-free, fair trade, vegan Easter egg will be a hit with kids and adults alike. The company also makes mini Easter half-eggs, which are great for an egg hunt!
They're available at:
---
With so many cruelty-free options available across the country, it's easier than ever to avoid dairy foods and spare cows a lifetime of suffering.
Happy Easter!