End of an Era: PETA Retires 'I'd Rather Go Naked Than Wear Fur'
"I'd Rather Go Naked Than Wear Fur" has become synonymous with PETA and animal rights.
Over the years PETA and its international affiliates have shot dozens of ads with celebrities, held hundreds of protests, and crashed more than a few runways, all in the name of our "I'd Rather Go Naked Than Wear Fur" campaign. And now, with the use of animal fur all but over, it's time for this iconic campaign to go the way of the mink stole, so that PETA can focus on other areas in which animals still need a great deal of help, including in the leather, wool, and exotic skins trades.
The 30-year campaign began in 1990, when rock icons The Go-Go's posed in the buff for a "We'd Rather Go-Go Naked Than Wear Fur" poster, which they sold at concerts to raise money for PETA US.
Soon afterward, Christy Turlington, Tyra Banks, and Marcus Schenkenberg became the first supermodels to strip for the series.
Since the '90s, the unveiling of a new "I'd Rather Go Naked Than Wear Fur" Times Square billboard during New York Fashion Week has become a hallmark of the event, featuring stars such as Pamela Anderson, Taraji P. Henson, Wendy Williams, and P!nk.
©Slobodan Randjelovic
And stripping down for PETA and animals has become something of a celebrity rite of passage, bolstered by the likes of Christina Applegate, Eva Mendes, Tony and October Gonzalez, Kate del Castillo, 360, Steve-O, Dennis Rodman, Olivia Munn, Austin Armacost, Ruby Rose, Waka Flocka Flame, and Tommy Lee.
Among the outspoken feminists who've participated are Melissa Etheridge, Kathy Najimy, and Gillian Anderson—who launched her PETA ad on International Women's Day, stating, "This is my body. It's mine to do with as I please. And today, I'm using it to stand up for animals and their right to exist as they please—with their skin still attached, naturally. My nakedness also makes a bigger statement. As an actor who is usually unusually modest, suddenly I find myself concerned that modern feminism has too many people confusing sexy with sexist."
Kim Basinger was among the first to appear in the campaign—and the very latest was her daughter, model Ireland Basinger-Baldwin.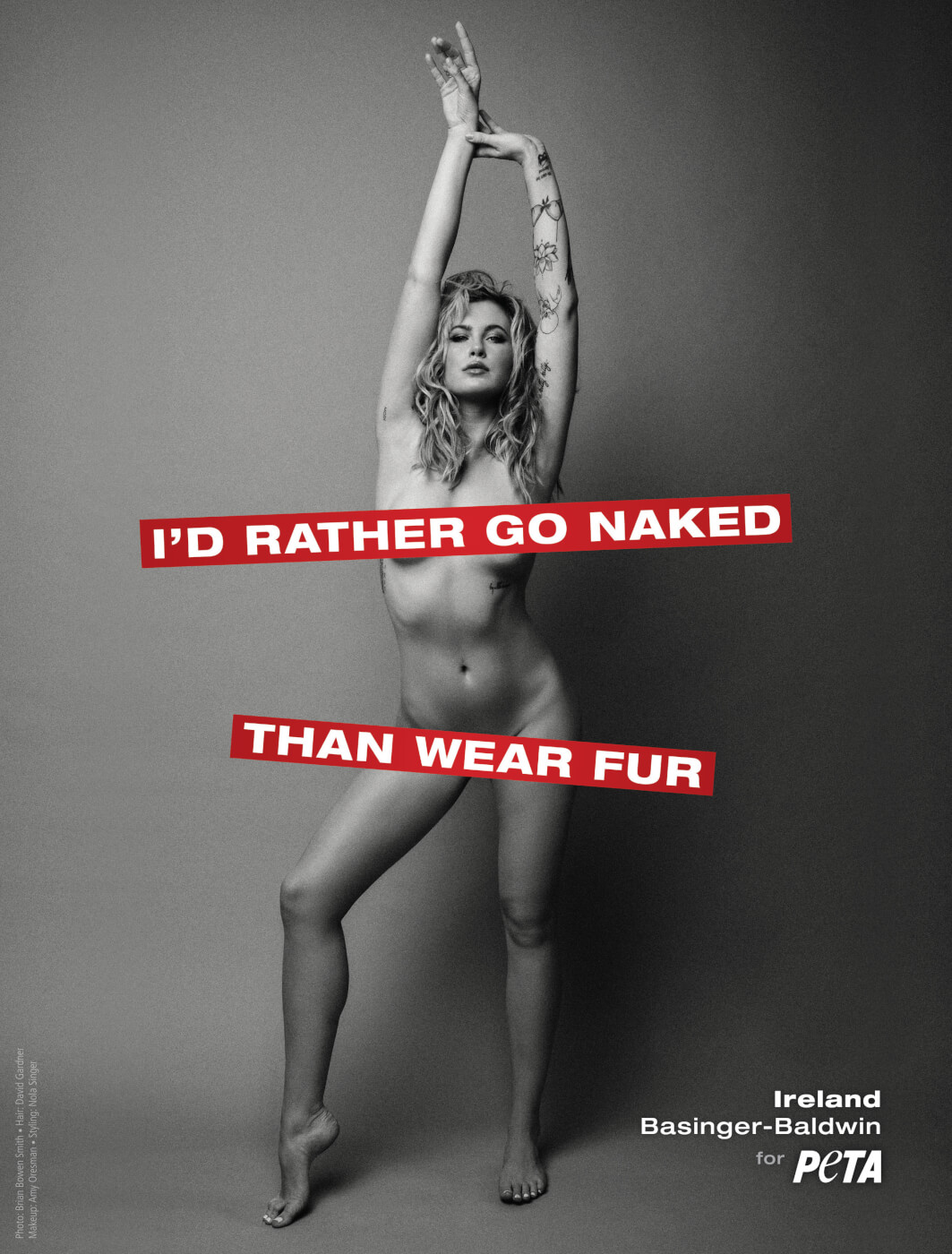 After 30 years, the iconic campaign and the fur industry it aimed to topple have reached a historic tipping point. Nearly every top designer has shed fur, California has banned it, Queen Elizabeth II has renounced it, and the largest fur auction house in North America has filed for bankruptcy. With fur in a downward spiral, PETA will now expand our efforts to expose the violent leather and wool trades.
PETA will continue working to end the use of fur everywhere it still exists, including our ongoing protests against Canada Goose—which trims its parkas with the fur of wild coyotes who are caught in painful steel traps—and the few remaining designers still clinging to animal pelts.
And don't worry—the world hasn't yet seen the last of all naked PETA ads (wink wink).
A new era has begun.
Want to hear more about PETA's upcoming campaigns for animals? Sign up to our e-news!