Vegan Gravy in Australian Supermarkets
A roast simply isn't complete until it's topped with gravy. Thankfully, plenty of vegan instant mix and heat and eat gravies are available in Australian supermarkets.
---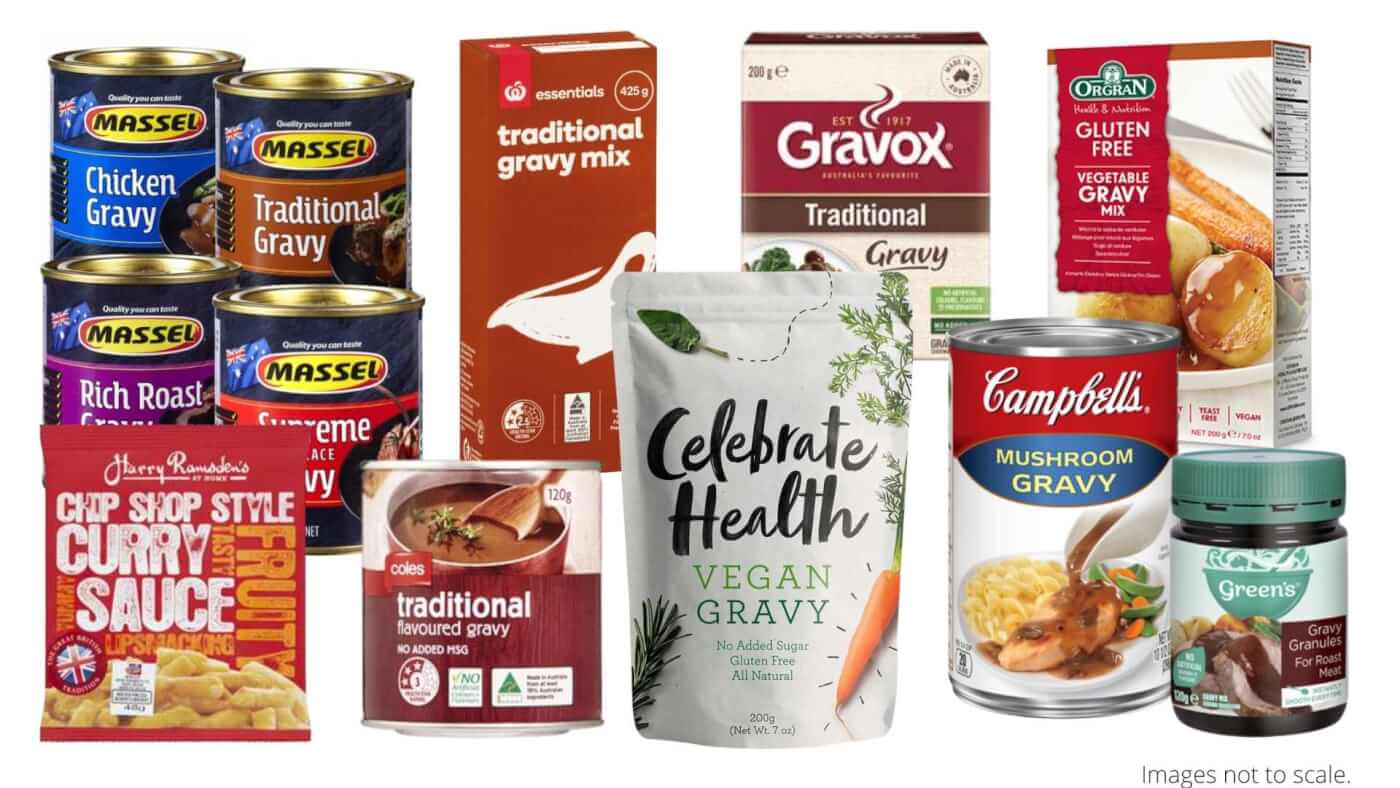 Vegan Instant Gravy Brands in Australian Supermarkets
ALDI Quixo Onion Gravy
Bisto Original Flavour Gravy Granules
Black & Gold Traditional Gravy Mix
Coles Traditional Gravy Mix
Gravox Supreme Gravy Mix
Gravox Traditional Boxed Gravy Mix
Green's Gravy Granules Roast Meat
Harry Ramsden's Chip Shop Style Curry Sauce
MAGGI Classic Rich Gravy Mix
MAGGI Gluten Free Supreme Gravy
The entire Massel Gravy Powder range – Chicken Gravy, Rich Roast Gravy, Supreme Demi-Glace Gravy, Traditional Gravy.
Marigold Vegetarian Organic Gravy Powder
Orgran Gluten Free Vegetable Gravy Mix
Orgran Vegetable Gravy Mix
Woolworths Essentials Traditional Gravy Mix
Vegan Heat and Eat Gravy
Campbell's Mushroom Gravy
Celebrate Health Vegan Gravy
Instant gravy not your style? No problems! Try this easy vegan gravy recipe:
Vegan Gravy
Makes 20–24 servings
1 onion, diced
2 Tbsp. oil
1 cup sliced mushrooms
5 Tbsp. flour
2 cups vegetable broth
1/2 cup water
1/2 cup soy sauce
Sauté the onion in the oil until soft.
Add the mushrooms and sauté for 1 minute more. Shake the flour, broth, and water together in a jar and add this mixture to the onions and mushrooms. Mix in the soy sauce and stir over medium heat until thick.
Need a little more assistance? Watch these videos for some more tried-and-true vegan gravy recipes. For vegan gravy, the key is mushrooms!
Now that you've got your vegan gravy sorted out, try one of these vegan roasts for Christmas: