DJ Tigerlily Is a Natural Vegan Beauty in New PETA Ad
She's best known for her talent on the turntables, but now DJ Tigerlily is turning heads for a whole new reason.
Wearing nothing but a crown made of vegetables, Dara Hayes – known as Tigerlily – poses for a PETA ad with the message "Go Natural. Go Vegan."
"The best thing about being vegan is the way that it makes you feel and the immense amount of energy and happiness that I get after every single meal," she told PETA.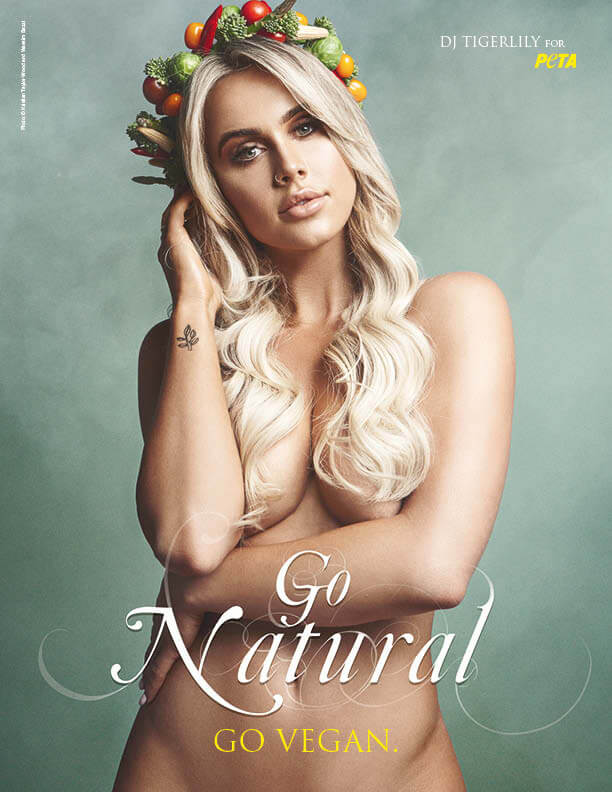 Tigerlily was horrified to learn about the suffering of animals on factory farms and at abattoirs, as most people would be. Pigs, cows, chickens, and sheep are routinely mutilated, kept in filthy and crowded conditions, and fed a cocktail of drugs, sometimes causing their bodies to become oversized and diseased. When they're still just babies, they're sent to the abattoir, where they're strung upside down and their throats are slit, sometimes while they're still conscious.
Sparing animals is an obvious advantage to a vegan lifestyle, but Tigerlily noticed positive changes in her physical and mental health as well. She's competed in two marathons since going vegan, all while maintaining a busy schedule of touring festivals and clubs around the world.
"I know that I am nourishing my body, I'm helping the environment, and I'm putting all my energy and good vibes toward a cause that I feel so, so passionate about," she said.
Tigerlily joins a growing list of celebrities – including Hugh Sheridan, Sia, The Veronicas, Nick Cave, and Renee Somerfield – who have teamed up with PETA to speak out against cruelty to animals.
Inspired to try vegan living yourself? Order our free vegan starter kit now!